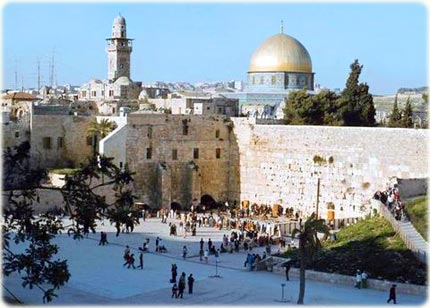 In the near future I'll be in Jerusalem. The question I'm most asked is "Are you afraid?" It's a good question.
Israel has been in the news. Palestinian/Israeli tensions are high. People assume that 'fear' should stop me from going.
We live in a volatile world. Bombs falling on Israel from the Gaza. Girls sold into slavery in Thailand. The Lord's Resistance Army training young boys to be killers in Africa. Gang violence in Chicago. Abuse in homes. Gossip in every cafe.
All that bothers me. It bothers me alot. Am I afraid? If I was in Israel and bombs were falling I would be afraid. If I was in the Gaza and Israeli troops were on my street I'd be afraid. If confronted by killers my knees would knock.
But am I afraid to go to Israel? Not really. I'm cautious and observant. Not stupid. But I'm not filled with debilitating fear. If I let that kind of fear guide me I wouldn't do anything, go anywhere, or put any words on a page.
Throughout Scripture God tells us to 'fear not'. I'm trying to live into that. because the truth of the matter is that throughout my life I've acted 'afraid' too many times. It's not debilitating fear it's more like 'deep caution'. And because of it I've confronted bullies too little. I've let others fight too many important battles. I've not always followed through in defending some deeply held convictions. I've let people down. That's what fear does. I hate it.
I'm going to Jerusalem. There are 40 people going with me. Some with more fear than others. We will stay away from Gaza, although I'd love to go there myself someday. I'd like to hear a bit more of the Palestinian side of the story. There's a 'truth' in their experience that sometimes get overlooked.
As I travel I will look to encounter the 'living God' in fresh ways. I need that infusion of experience at this time. I also will ask God to open my eyes to ways I can serve a world filled with both fear and evil. And as God answers me I might find 'fear' bubbling up inside me. Then I will need to confront it and claim the 'Be not afraids' of Scripture as my own.
The truth is that as God moves into our life He might ask us to go someplace to confront our deepest fear or anxiety. It's at those difficult places that God wants to guide our steps.
We live in a world that is spiraling somewhere that will take us all into hard places of opportunity. We might have to get out of our habitual cocoons of spiritual safety and walk the road of radical faith and trust. That will require a spiritual innocence and maturity that's currently beyond the reach of most western Christians. In all honesty we spend too much time fearing the 'boogeymen' of our own imagination. We might have to grow up to face some rather sobering realities. And we might get afraid. And guided by our fear we might hide. And when we hide we miss out on God's best. And when we miss out on God's best we have no right to say we are 'living'. That's truly frightening.